The Unique Amazing,
Slime Making, Bubble Blowing,
Party Games, Disco Party.
The Only Party Where You Turn
Your Slime into a
Giant Bubble Making Solution !!


and Make Giant Bubbles

No Other Slime Party Does This !!!


Your Unique Bubble Slime Making,

Bubble Blowing,

Non Stop Party Games,

Best Mini Disco Party.
All in One Great Slime Party
The Secret Slime Recipe Makes Giant Bubble Solution,

No Other Slime Party Does This !!
# £325.00 Maximum of 20 Children #
# 1 : Put on Aprons, Mix the Ingredients and Make " Normal " Slime the Choice of Your Colour

# 2 : Play with the Slime We've Made
# 3 : The Exciting BIT !!
Make the Bubble Slime from the Secret Formula and Design Bubble  Wands out of Special Bubble Pipe Cleaners
# 4 : Turn the Secret Formula Slime into Giant Bubble Solution

# 5 : The Amazing BIT !!
Use the  Wands to Make Amazing Floating Bubbles

# 6 : Refreshments and Tidy Up and put Remaining Bubble Slime in a Bag to take Home

# 7 : Now its Non Stop Action Party Games That Gets Everyone Involved

# 8 : Followed by The Birthday Song and then The Best Mini Disco !

# 9 : Everyone Will Be Jumping, Dancing and Laughing in The Awesome Mini Disco Which Includes Stunning Effects and Easy Fun Dances.

# 10 : Free Incredible Mad Bubble and Snow/ Foam Effects That Your Party Guests Will Go Crazy About.
It's Great Value, Stress-Free Entertainment
That Creates Lasting Memories.
ALL IN ONE EASY TO BOOK GREAT PARTY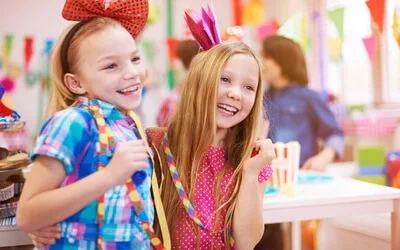 : All Your Guests Will Take Home

: A Balloon Model
: A Super Hero Party Certificate.